This Web Site Is Dedicated For The Arab League
---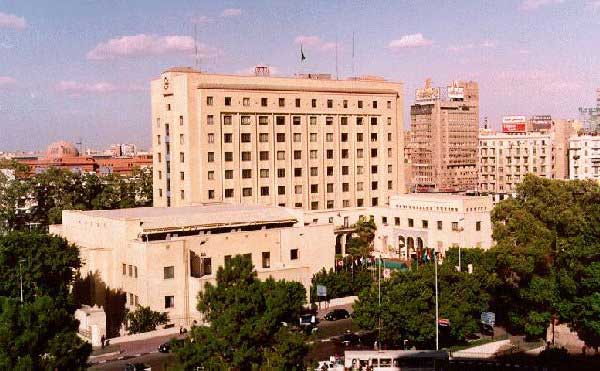 photo by E. S. Haynes, November 1995
---
Arab League, informal name of the League of Arab States, a voluntary association of independent countries whose peoples are mainly Arabic speaking. Its stated purposes are to strengthen ties among the member states, coordinate their policies, and promote their common interests.
Members of the Arab League
Algeria
Bahrain
Comoros
Djibouti
Egypt
Iraq
Jordan
Kuwait
Lebanon
Libya
Mauritania
Morocco
Oman
Palestine
Qatar
Saudi Arabia
Somalia
Sudan
Syria
Tunisia
United Arab Emirates
Yemen

The Arab League was founded in Cairo in 1945 by Egypt, Iraq, Lebanon, Saudi Arabia, Syria, Transjordan (Jordan, as of 1950), and Yemen. Countries that later joined are: Algeria (1962), Bahrain (1971), Comoros (1993), Djibouti (1977), Kuwait (1961), Libya (1953), Mauritania (1973), Morocco (1958), Oman (1971), Qatar (1971), Somalia (1974), Southern Yemen (1967), Sudan (1956), Tunisia (1958), and the United Arab Emirates (1971). The Palestine Liberation Organization was admitted in 1976. Egypt's membership was suspended in 1979 after it signed a peace treaty with Israel; the league's headquarters was moved from Cairo, Egypt, to Tunis, Tunisia. In 1987 Arab leaders decided to renew diplomatic ties with Egypt. Egypt was readmitted to the league in 1989 and the league's headquarters was moved back to Cairo.

The Arab League is involved in political, economic, cultural, and social programs designed to promote the interests of member states. The Arab League has served as a forum for member states to coordinate their policy positions and deliberate on matters of common concern, settling some Arab disputes and limiting conflicts such as the Lebanese civil wars of 1958. The Arab League has served as a platform for the drafting and conclusion of almost all landmark documents promoting economic integration among member states, such as the creation of the Joint Arab Economic Action Charter, which set out the principles for economic activities of the league. It has played an important role in shaping school curricula, and preserving manuscripts and Arab cultural heritage. The Arab League has launched literacy campaigns, and reproduced intellectual works, and translated modern technical terminology for the use of member states. It encourages measures against crime and drug abuse and deals with labor issues (particularly among the emigrant Arab workforce).

The Arab League has also fostered cultural exchanges between member states, encouraged youth and sports programs, helped to advance the role of women in Arab societies, and promoted child welfare activities.

The Egyptian government first proposed the Arab League in 1943. Egypt and some of the other Arab states wanted closer cooperation without the loss of self-rule that would result from total union. The original charter of the Arab League created a regional organization of sovereign states that was neither a union nor a federation. Among the goals the league set for itself were winning independence for all Arabs still under alien rule, and to prevent the Jewish minority in Palestine (then governed by the British) from creating a Jewish state. The members eventually formed a joint defense council, an economic council, and a permanent military command.
The Charter of the Arab League (1945)
Cultural Treaty of the Arab League (1946)
Joint Defense and Economic Cooperation Treaty between teh States of the Arab League (1950-52)
Secretaries-General of the Arab League
Subsidiary Bodies of the Arab League:
Council (Internal Regulations of the Council [1951] and Internal Regulations of the Committees [1951]:

Arab Women's Committee
Committee of Arab Experts on Cooperation
Communications Committee
Conference of Liason Officers
Cultural Committee
Health Committee
Human Rights Committee
Information Committee
Legal Committee
Organization of Youth Welfare
Permanent Committee for Administrative and Financial Affairs
Political Committee
Social Committee
General Secretariat (Internal Regulations of the Secretariat-General of the League [1953]):

Secretary-General: Dr. Ahmad Esmat abd al-Meguid (Egypt)
Assistant Secretary-General for Administrative and Financial Affairs: Ahmad Qadri
Assistant Secretary-General for Economic Affairs: Dr. Yousef Abdel-Wahab Niemat Allah (Saudi Arabia)
Assistant Secretary-General for Information Affairs: Dawo Ali Siwedan (Libya)
Assistant Secretary-General for Arab Affairs: Assad al-Assad (Lebanon)
Assistant Secretary-General for International Affairs: Adnan Omran (Syria)
Assistant Secretary-General for Military Affairs: Muhammad Said ben Hassan el-Berqdar (Syria)
Assistant Secretary-General for Social and Cultural Affairs: Mahdi Mustafa al-Hadi (Sudan)
Assistant Secretary-General, Head of Secretary-General's Office: Ahmad Ibrahim Abdel (Egypt)
Defense and Economic Cooperation Bodies:

Arab Unified Military Command
Economic Council
Joint Defense Council
Permanent Military Commission
Arab Deterrent Force

Other Institutions of the League:

Administrative Tribunal of the Arab League
Arab Fund for Technical Assistance to African and Arab Countries (AFTAAAC)
Special Bureau for Boycotting Israel


Specialized Organizations:

Arab Administrative Development Organization
Arab Centre for the Study of Arid Zones and Dry Lands (ACSAD)
Arab Industrial Development and Mining Organization
Arab Labour Organization
Arab League Educational, Cultural, and Scientific Organization (ALESCO)
Arab Maritime Transport Academy, Alexandria
Arab Organization for Agricultural Development
Arab Organization for Social Defense against Crime
Arab Postal Union
Arab Satellite Communication Organization (ARABSAT)
Arab States Broadcasting Union (ASBU)
Arab Telecommunications Union
Banque arabe pour le developpement economique en Afrique (BANDEA) (Arab Bank for Economic Development)
Council of Arab Ministers of the Interior
Inter-Arab Investment Guarantee Corporation


Other Related Organizations:

Arab Fund for Economic and Social Development (AFESD)
Arab Monetary Fund
Council for Arab Economic Unity
Organization of Arab Petroleum Exporting Countries (OAPEC)


Offices Abroad in Non-Member States:

Argentina: Gorostiaga 2021, 1426 Buenos Aires
Austria: Grimmelshauengasse 12, 1030 Vienna
Belgium: 106 ave Franklin D. Roosevelt, 1050 Brussels
Brazil: Shis-Qi 15, Conj. 7, Casa 23, 71600 Brasila, DF
Canada: 170 Laurier Ave. West, Suite 604, Ottawa K1P 5VP
Ethiopia: P.O. Box 5768, Addis Ababa
Germany: Friedrich Wilhelm Str. 2A, 5200 Bonn 1
Greece: Martious St., Filothei, Athens
India: A-137 Neeti Bagh, New Delhi 110-049
Italy: Piazzle delle Belle Arti 6, 00196 Rome
Japan: 1-1-12 Moto Asabu, Minato-ku, Tokyo 106
Kenya: P.O. Box 30770, Nairobi
Russia: 28 Koniouch Kovskaya, Moscow
Senegal: 41 Rue el-Hadji Amadou, Assane Ndoye, Dakar
Spain: Paseo de la Castellana 180, 6o, Madrid 16
Switzerland: 9 rue de la Valais, 1202 Geneva
U.S.A.: 747 3rd Avenue, New York, NY 10017; 1100 17th Street, NW, Suite 901, Washington, DC 20036; also offices in Chicago, Dallas, and San Francisco
---
General Maps of the Region:
General Satellite Images:
U.S. State Department Bureau of Near Eastern Affairs
Human Rights Watch: Middle East general